Visit our contemporary kitchen showroom, located within Ponsford Furniture on the 2nd floor. Here you can immerse yourself in the beauty of our 9 exquisite showroom displays featuring products from each of our luxury brands, Schuller, Next 125, Miton and Nobilia. Discover a wealth of design possibilities including specialist pocket door systems, wall hung kitchens and a wide range of exquisite materials including glass, real wood veneers, Corian® worksurfaces and even a PITT gas hob sunk into a worktop. You can also see working kitchen appliances from leading brands including Siemens, Miele, and AEG.
Opening Hours
Monday – Saturday: 9:00am-5:30pm
Wednesday open until 7:30pm
Sundays: 11:00am – 5:00pm
Experience Excellence at Our Sheffield Kitchen Showroom 
At Square Kitchens, we are proud to welcome all visitors to our expansive Sheffield kitchen showroom, where you can experience our exquisite range of German fitted kitchens and appliances. We are ideally situated to serve Sheffield, Chesterfield, Rothertham, Doncaster, Yorkshire, and beyond. When visiting our showroom, you'll find a wide range of stunning kitchen displays from our German kitchen brands, Next125, Schüller and Nobilia. Whichever style, layout or finish you prefer, we're bound to have the ideal look to inspire your new kitchen!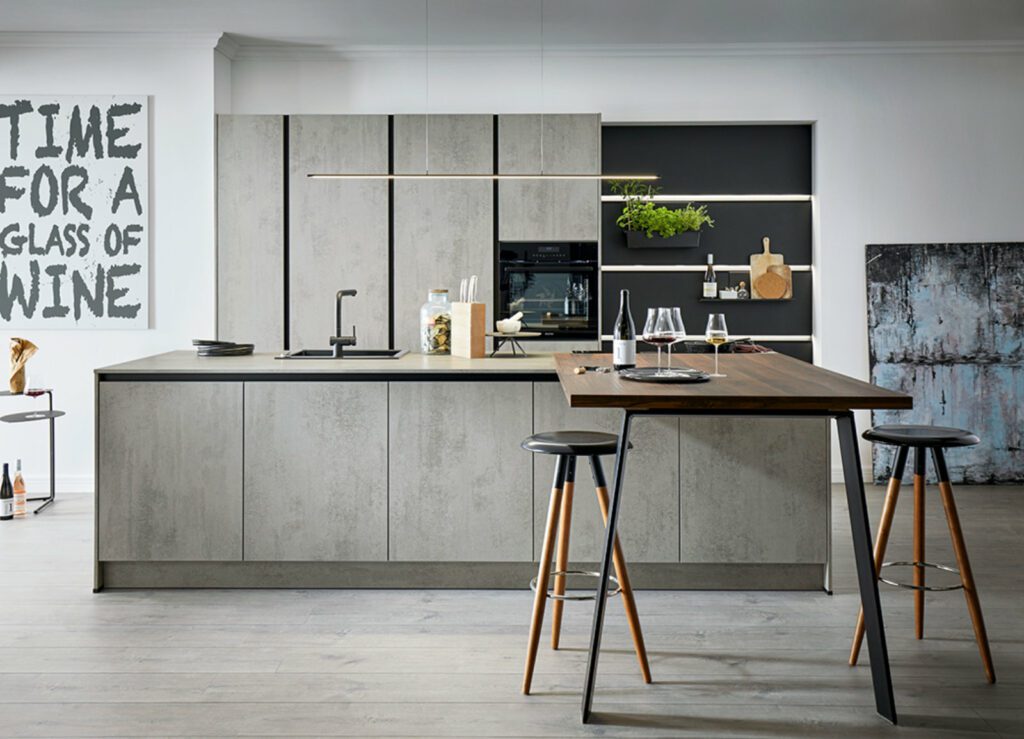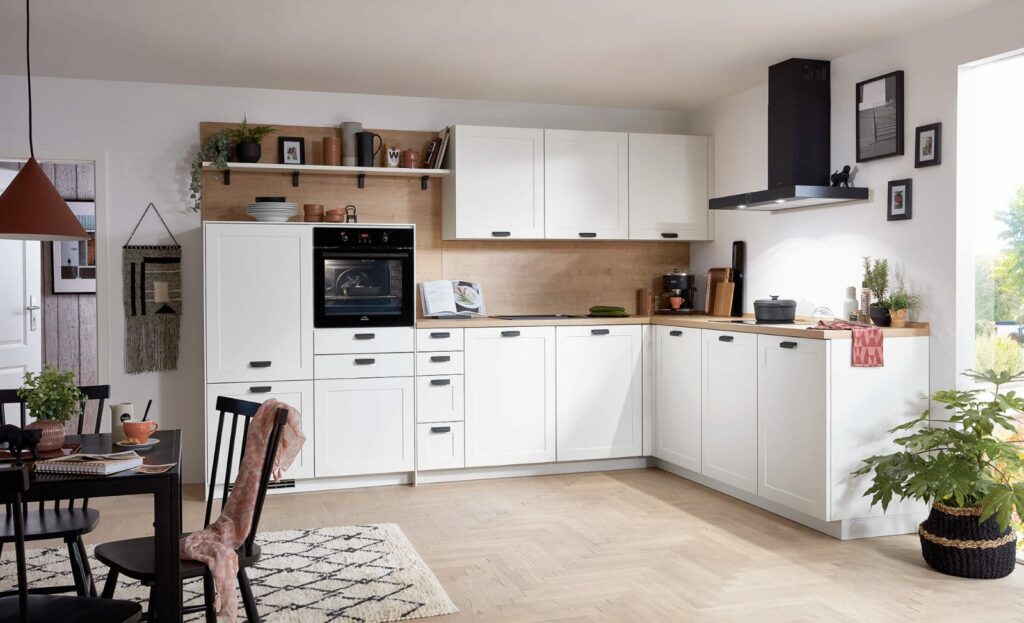 Why Choose Square Kitchens?  
Square Kitchens is far more than just a kitchen showroom. Instead, we are a hub of inspiration, offering beautiful displays, high-quality German kitchens, and a team of friendly, knowledgeable designers. Our Sheffield kitchen showroom is a testament to our commitment to quality and customer satisfaction, featuring durable German designs and the latest appliances by renowned brands including Bosch, Bora, Miele, Siemens and more. Our Sheffield kitchen design experts are eager to guide you on your journey, offering advice on everything from kitchen colours to splashbacks and worktops. For years we have been supplying fitted kitchens throughout Sheffield and beyond, earning a reputation for quality, service, and innovative design. 
The Benefits of Visiting a Kitchen Showroom   
When planning a new kitchen, visiting a high quality showroom in person is an invaluable step, as it offers a tangible experience that can't be replicated by browsing online. You can touch the materials, open the cabinets, and truly visualise how the kitchen will function in your own home. It's an opportunity to see the latest designs and technologies firsthand, and to understand how different elements work together. Moreover, you can engage with experienced staff who can provide personalised advice tailored to your needs. Ultimately, visiting our Sheffield kitchen showroom can offer ideas and insights you wouldn't find elsewhere.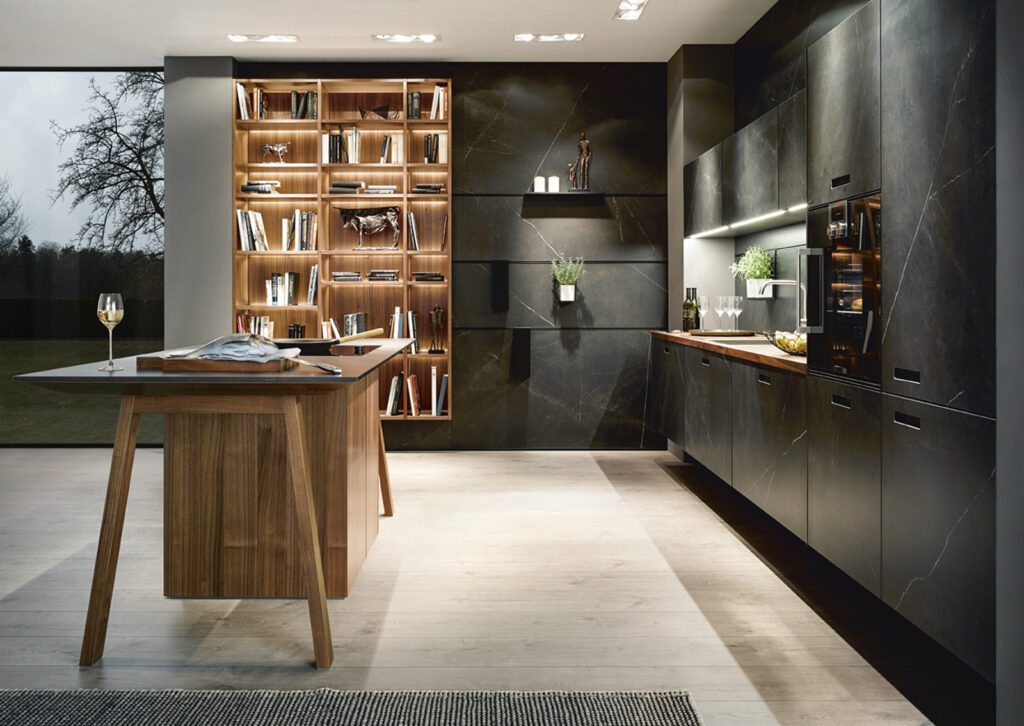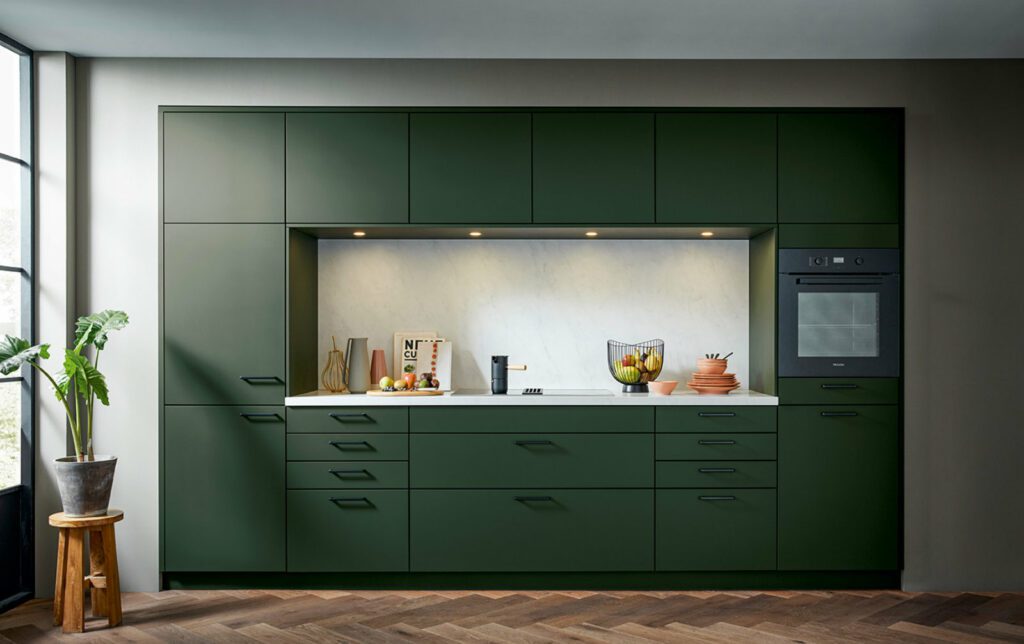 A Showroom of Inspiration and Variety    
Our Sheffield kitchen showroom is a treasure trove of kitchen design inspiration. From German handleless displays to painted shakers, we offer a wide range of styles and finishes. We also carry samples of all our doors, worktops, and materials, allowing you to see and feel the quality of all our products firsthand. Each display has also been very carefully crafted to reflect popular design styles, ensuring you can interact with it and discover everything you might need for your new German kitchen design.  
Discover the Latest Design Trends    
At our Sheffield kitchen showroom, you can explore the latest trends in kitchen design, whilst our experts will ensure we give you a kitchen that remains durable and on-trend for years to come. Minimalist German kitchens are at the forefront of modern trends, with sleek handleless cabinets and integrated appliances creating a seamless, clutter-free look. You can see luxury pocket door systems, wall hung kitchens, and many exquisite materials including glass and real wood veneers.
We also showcase the resurgence of bold colours, from deep blues to vibrant greens that can add lots of personality and interest to your space. Finally, a trip to our luxury Sheffield kitchen showroom will also uncover sustainable practices and materials such as natural wood and stone, reflecting a growing commitment to eco-friendly kitchen design.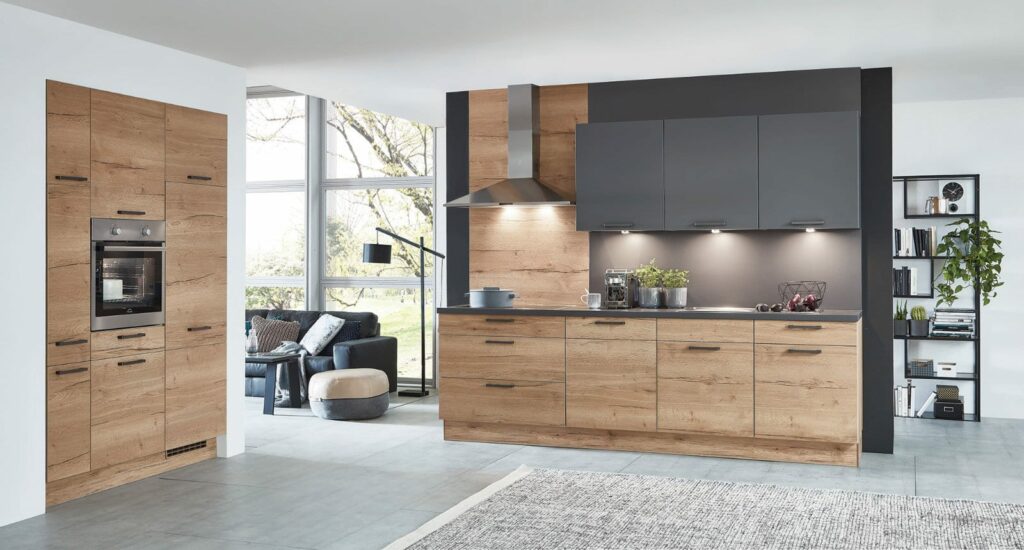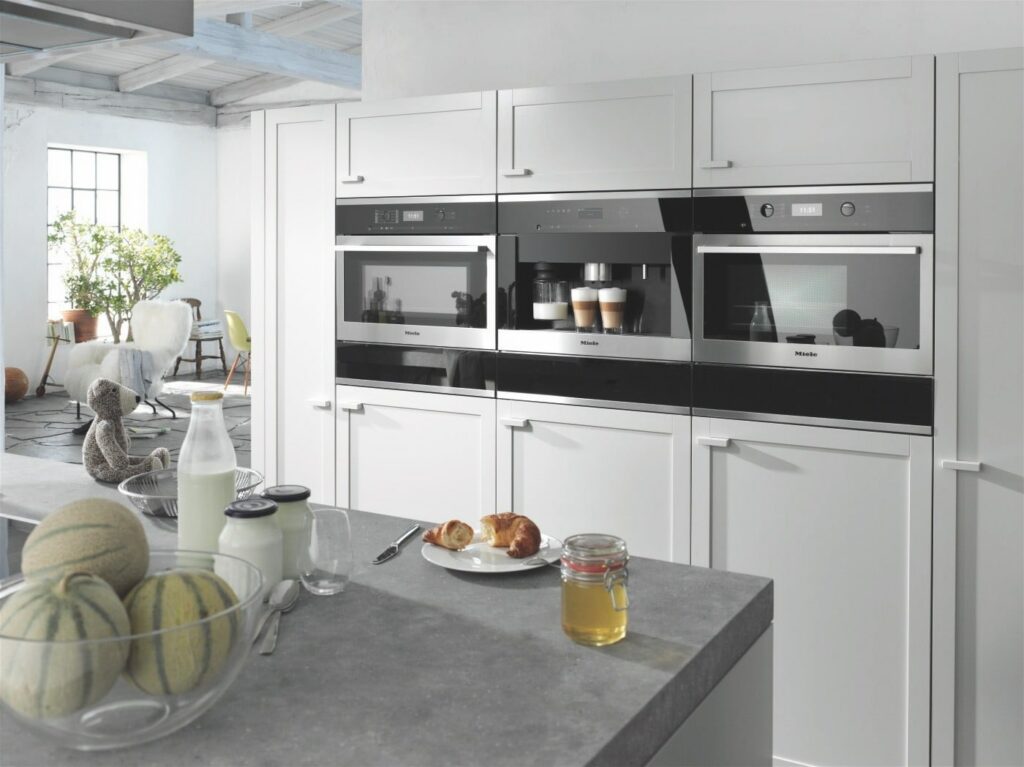 Experience Our Quality Appliances     
With food preparation and cooking at the heart of every kitchen, it's important to include high quality, durable kitchen appliances, which also suit the aesthetic of your design.  For this reason, our Sheffield kitchen showroom additionally features a range of high-quality kitchen appliances in diverse styles, ensuring you can find the ideal appliances to complement your kitchen tastes.
Our extensive assortment includes Siemens, Miele, Bora and AEG. We have a good working relationship with our trusted brands, and our expert Sheffield kitchen designers are adept at recommending appliances based on your needs and preferences. From hobs and ovens to refrigerators and dishwashers, we offer fully functional displays of our appliances, allowing you to test them before making final decisions.     
Meet Our Expert Kitchen Design Team     
Visiting our Sheffield kitchen team will bring you in touch with our expert designers who firmly believe that that each element of your kitchen should echo and enhance your individuality and lifestyle. This is why we devote as much time as necessary so that we fully understand your vision, and can then put your needs at the core of every decision we make together. We also provide candid, professional advice and recommendations to guarantee that your kitchen design is not just visually appealing, but also fully functional and convenient. Whether it's about choosing colours and finishes, or deciding on lighting and appliances, we're here to assist you in realising the kitchen of your dreams.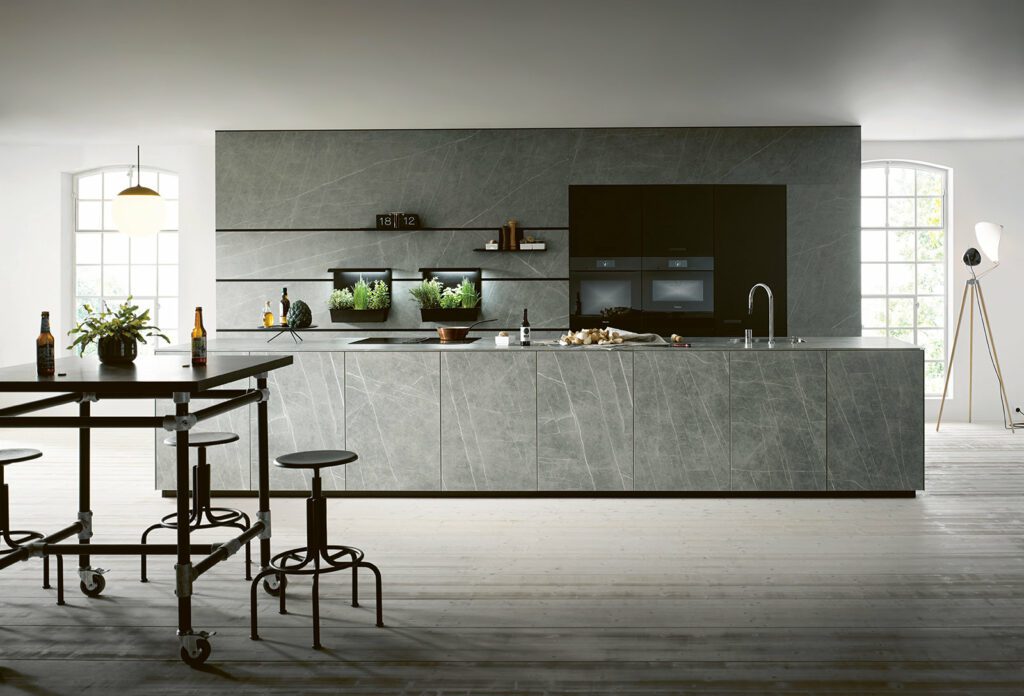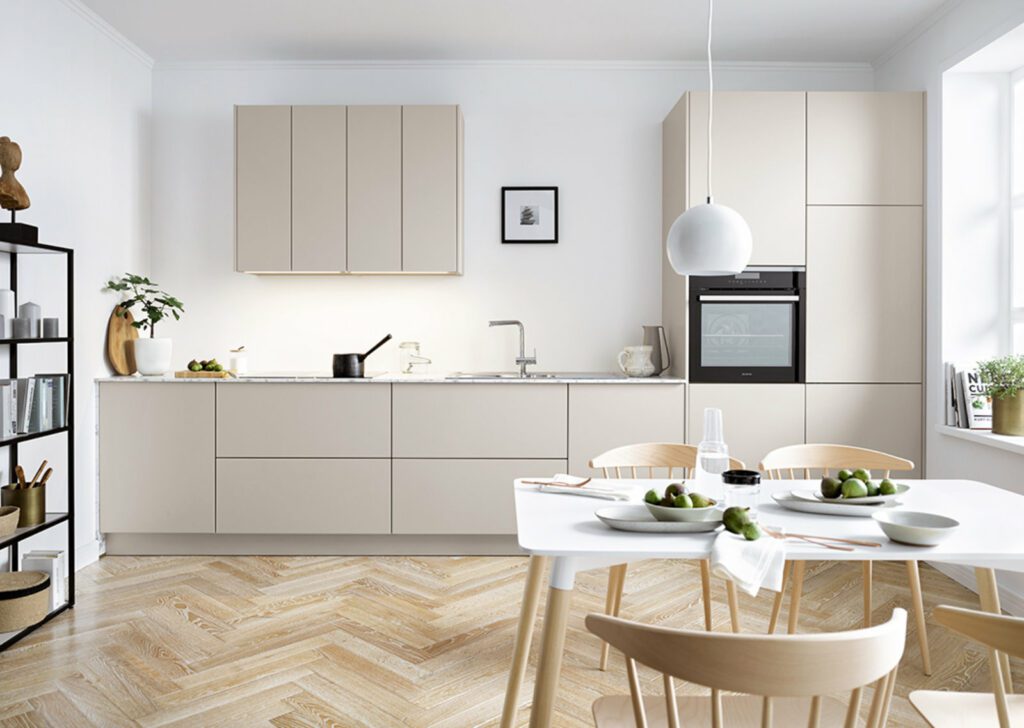 Visit Our Sheffield Kitchen Showroom Today      
If you're ready to take the next step in your kitchen planning journey, we encourage you to book an appointment at our Sheffield kitchen showroom! Here, you'll experience the quality and beauty of our German kitchens for yourself, gaining invaluable inspiration and advice. Our dedicated team is committed to creating your ideal kitchen space, ready to offer their expertise and guide you every step of the way. Alternatively, should you prefer us to visit you at home to measure up your space on your behalf then please let us know and we can arrange a home visit instead.